I'll be the first to say that training can be hard.
We put in long hours, hard workouts, push ourselves to exhaustion--
because we love it.
Don't get me wrong: I don't love not being able to get out of bed in the morning, having to take ibuprofen and wear compression gear like a job...but I do love the thought of pushing myself to that point.
This
past weekend
, I was struggling with frustration and emotions.
Not every workout is going to be great,
and your motivation will fluctuate...that is life.
There are days I love it, and days I struggle.
But either way, I still keep the goal in mind and keep pushing forward.
There are days I doubt my ability to complete 70.3 in a few weeks.
But then there are days it just clicks.
The workouts come together, slowly but surely my confidence has been growing.
Do I think I will podium? Not a flipping chance & I am A-OK with that!
Do I think I can make my time goal? Possibly.
Do I think I can finish? You bet your ass.
It required a super early wake-up and a semi-long drive but it was worth it.
My friend
Katie
came from California to compete, as well as some local friends that were doing it.
These are all people who have done nothing but support me, encourage me and being there for them was the least I could do.
The weather was brutal; ungodly heat, blazing sun with little to no shade, and it's already a hard course to begin with.
Early morning, before the parking was completely full
Transition
I got oddly excited seeing transition....only a few more weeks until Musselman when I'll be in there getting all of my stuff set up.
Walking down to the swim start
After the swim, we watched everyone get on their bikes and then Deb and I ran around for an hour. She wanted miles in and I needed time on my feet so it was a nice slow hour of running in the sun. Just having great company to talk to while doing some easy miles was much needed.
After Deb and I's run we went in the water with our running clothes on to try and cool off. My Saucony Run Lux II Shorts were dry super quick after getting out. Light material and hot day helped with that.
Deb's hubby Tom going through transition
Katie about to Dismount
Being at the dismount line for T2 was extremely helpful. First of all we got to see everyone and cheer our hearts out. Secondly I learned A LOT. Just watching what worked and what didn't (lots of stumbles and falls) was huge. Transitions are going to be important for me to make up the time I am going to lose on the swim.
How can you NOT cheer for this girl. She was hot and tired, and knew she was going to be slower than her goal but was still smiling. This was her second 70.3 representing QT2 Systems and she did amazing. Katie has always been motivating and inspirational to me, she is an incredible friend and athlete.
Baking in the sun waiting for everyone to come through... glad I wore my Saucony's to kick around in all day!
I owe Katie a ton right now.
Being there for her was easy, and one of the best things I have done in a while.
It was a reminder to me that Musselman is going to be hard, it's going to hurt and I can't control it. I can't control the weather or whatever may happen but I can control how I react to it. Learning to adjust and adapt is huge, and that might mean changing my goal for the race depending on how things play out.
Just like that weekend I spent at races (but not racing), this was much needed.
Being around friends and athletes, watching every little detail trying to learn things I don't know, and just soaking everything in was huge.

Everyone has seen this...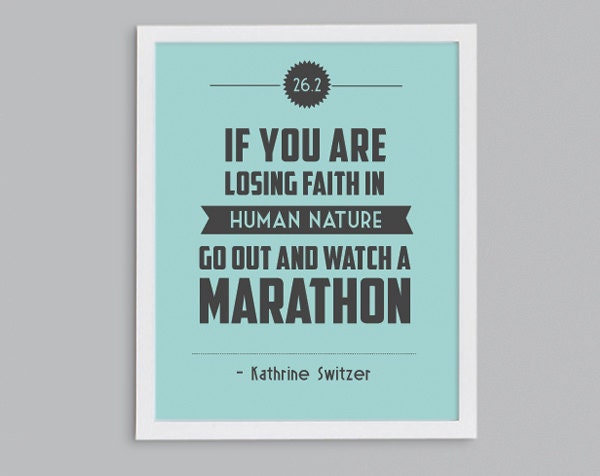 Well I'm going to add a few things..

If you're looking for...
Motivation
Faith
Inspiration
Helpful tips
A fun day
Great company
Wonderful atmosphere
A boost to get you through training
Something to snap you out of a bad mood
A reason to try harder...

Go watch a marathon, or a half-iron....or hell...even a 5k.

So with less than 3 weeks to go now, I am feeling good.
My workouts have been decent-sticking to the plan.
I've been getting more comfortable in the water (not faster).
I'm really working on fine-tuning my cycling.
And well..running is running. My love.
I am mentally preparing myself, because I don't plan on throwing any temper tantrums during the race...if it isn't my day then fine but I'm going to finish anyways.


Tell me something that has motivated you lately?