Just a few quick things today :)
Hope everyone is having a fabulous Thursday!
1.
Marathon recovery is going well
, my legs are feeling really good and I am excited to run later today for the first time. I was going to run yesterday...but I tried being a smart ass and going without caffeine yesterday...how did that end up? Post-Marathon-Fatigue + NO Caffeine + Stupid Hot weather = Laura taking a 2 hour nap at 4 pm Then when I did wake up, ice cream won the battle over going out and getting even sweatier. I'll blame that on the cravings and the heat. Am I upset about this? Not one bit...
I ran a 3:25 marathon
3 days prior, I'm pretty sure that gives me room to be lazy for a few days.
Good news is, a running hangover isn't much different from an alcohol hangover (well the running thing is clearly more healthy than consuming a bottle of wine and 6 jack and cokes like some people do every night), but that's besides the point.
Cure to a hangover: refuel, rehydrate, and rest.
2.
I'm taking this time right now to really get organized and get back on track with everything that I have going on.
I'm still working on getting my home office set-up and organized, which will be a big help.
Studying for 2 huge exams (
Series 7
--for my job, and my
ACE
Certified Personal Trainer Exam), and planning a wedding while maintaining 2 jobs requires a schedule. Since I opted not to run last night, I spent my time from 6 pm until about midnight studying and also making a study schedule. This thing is crazy detailed and it's exactly what I need.
Yep, this is what my summer study schedule looks like!
This is the 'master schedule', I also have it broken down and printed out for each week to keep track.
Hopefully I can stick to this better than I stick to training plans.
3.
I think my race schedule is going to be changing a little.
As of right now I am supposed to be doing the
Keuka Lake Intermediate Triathlon
in a little over a week. This would be my first triathlon and a real training test for me for my upcoming
Half-Ironman
in July. I think I am going to forego this race. My tri-training really has taken a back seat the last few weeks and I want to go into my first tri as prepared as I can be. I found
another tri
of the same distance that is 2 weeks after Keuka, which would give me 2 extra weeks to prepare. I know that I could complete Keuka next weekend, but I want to feel comfortable and confident going into it. Another option I am considering is doing the sprint distance at Keuka which would be much more manageable for me, and then the Intermediate Distance 2 weeks later. The plus of that option is that it gives me 2 triathlons under my belt before heading into
Musselman
70.3 in July. I will decide by the end of this weekend for sure on what I would like to do, I need to make the right decision for me.
4. After
Volunteering Tuesday
night at Corporate Challenge,
I am really excited for this weekend
. I had planned to volunteer for the Buffalo Marathon so I can watch people like
Heather
, and my cousin Krysten kick butt in their races. I finally got my "volunteer assignment" I will be road marshaling shortly before mile 3. That makes me really happy to be early on because I can see everyone early and then be done soon enough to jump on my bike and ride the course cheering and providing support for people I know. Please let me know if you are running so I can watch for you!!
5. Until last night I had totally forgotten that the
Sehgahunda
trail marathon/relay was this weekend. John and I know quite a few people doing this race, including one of his best friends Mark. So we will be going down to
Letchworth
for the day to cheer and support everyone we know. It's going to be a really fun weekend. Watching 3 races this week is seriously just what I needed to recover mentally and emotionally from the marathon. Let me know if you are running this wicked hard trail marathon/relay and I'll make sure to watch/cheer for you!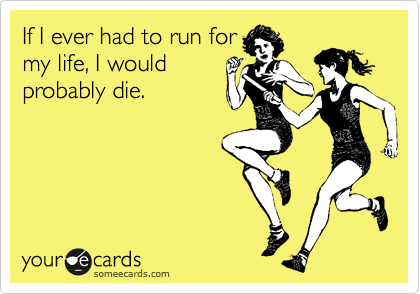 This is how I feel about me & trail running.... hence the reason I will be cheering and not running.
If there is a rock or a branch hidden 6 feet underground, my feet and face will find it.
Throwback Thursday: This was me in 2010 finishing my first trail race...oh wait first trail run too. You can kind of see the mud. I was covered in dirt and blood (I fell like 5 times...good times.), ended up with a sprained ankle and some good bruises! For the record, just about EVERY.SINGLE.ONE. of my race finish line photos are of me stopping my watch. I should work on that. Oh, and I never did a trail race again after this, maybe one day...not anytime soon.
What is the weirdest craving you have had after a big race?
Any thoughts on my triathlon dilemma?
Who is racing this weekend?